The Future of Professional Services: From Project-Focused to Customer-Focused Solutions
The Future of Professional Services Organizations: 
A Shift Towards Customer-Centric PSA
Professional Services organizations today are under increasing revenue pressure, but many are still seeing projects fail because of things like poor scoping, misaligned expectations between company and client, ineffective resource planning, and more.
Historically, organizations have attempted to solve these problems by focusing solely on the projects themselves, and implementing handfuls of siloed tools such as automated billing, time and expense tracking, status reporting,
spreadsheets and other manual tracking tools, and in some cases resource planning tools that come primarily from an ERP provider. Even those organizations who have implemented more robust professional services automation (PSA) solutions are largely using ones that are focused on solving back-office, project-based problems, rather than creating front-office solutions that foster better customer experiences.
The time is now for Professional Services Organizations to make a shift towards customer-focused solutions that will result in long-term customer relationships and repeat business.
Download the whitepaper now to learn more.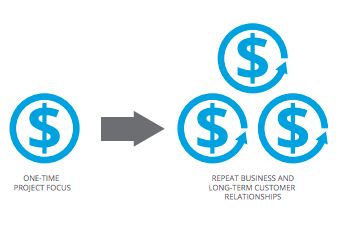 Download the FREE wallpaper!
In this whitepaper:
The Future of Professional Services Automation: From Project-Focused to Customer-Focused Solutions describes what the future holds for professional services organizations and why more are shifting towards a customer-focused approach. Download the whitepaper now to:
Explore the problems faced by services organizations today
Examine better ways to solve these problems than traditional approaches
Analyze the power of a customer-centric PSA tool for creating long-term customer relationships
And more…